VINTAGE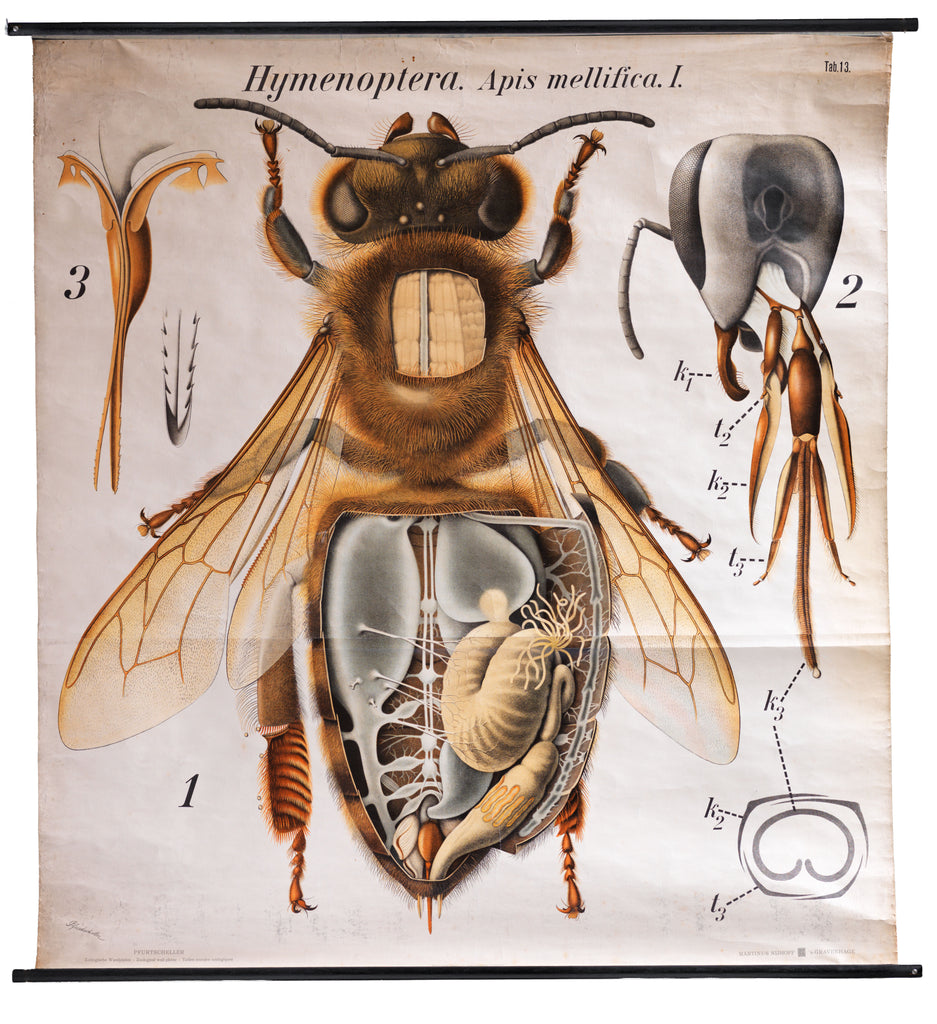 The Bee
A very striking 1930s school wall chart of the honey bee by artist, school teacher and biologist Dr Paul Pfurtscheller; an Austrian zoologist, who produced a series of 39 highly accomplished zoological prints for use in higher education. This plate is number 13, an early lithographic print mounted on canvass, and illustrates in beautiful detail the internal anatomy of the worker bee. It bears the artist's signature and the publisher/maker's stamp: Martinus Nijhoff, Gravenhage.
History 
Paul Pfurtscheller (1855-1927) had no formal art training, and from 1902 he began creating detailed anatomical charts of animals and plants to compliment his lessons. Each chart exhibits similar visual qualities: one large image of the whole animal, part dissected, and surrounded by a few, carefully chosen details of the anatomy. His series of 38 charts were originally published by A. Pichler's Witwe & Sohn und Buchhandlung Lehrmittelanstalt, a bookstore specialising in educational literature and teaching aids in Vienna and Leipzig. Later editions, identifiable by the 'Pfurtscheller'-signature at the bottom left, were published by Dutch company Martinus Nijhoff until 1953.  Pfurtscheller's first charts were large coloured lithographs mounted on canvas.  Later in the 1950s, they were published as much smaller all-paper versions.  
In their day they were highly regarded by eminent zoologists and botanists, and have more recently become highly collectable, now making striking wall decorations for the home.
Manufactured by: Martinus Nijhoff

Country of origin: Holland
Date of manufacture: c.1930
Dimensions: Height cm, Width cm
Condition: exceptional condition for its age, with slight creasing and discolouration.