VINTAGE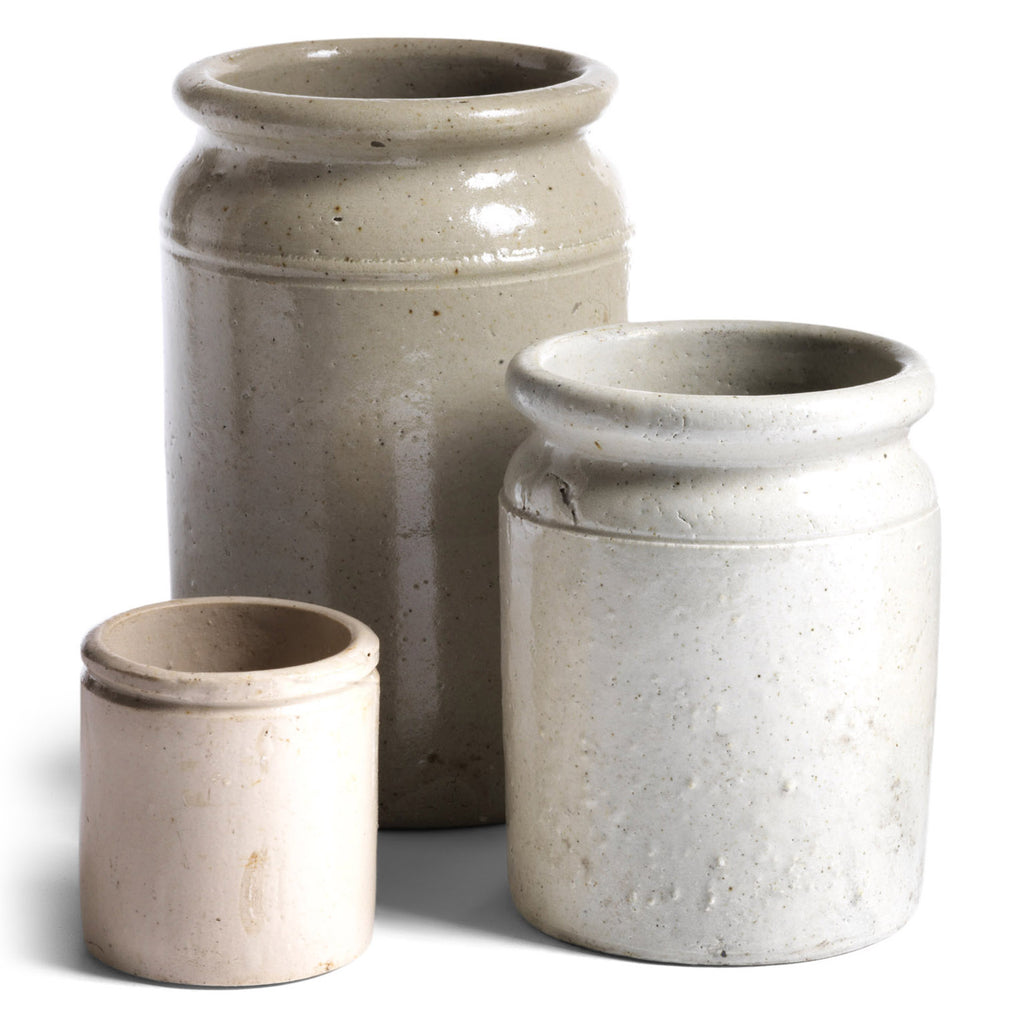 Utility Jar
Our antique utility jars are stoneware, over 100 years old, and were originally made by the Victorians to hold marmalade and other preserves. They have a rounded lip and come in a wonderful blend of greys, buffs and mushroom browns, and all make great holders for all your scullery bottle brushes, long-handle dish scrubbers, utensils and other bits and bobs. The smallest is perfect for Brillo pads, and other small unsightly things.
History
From 1870 – 1920 the UK witnessed an explosion in packaging.  Cooked food was no longer all made at home, and could be bought ready-made, such as marmalade, preserves, sauces, chutneys and fish pastes. For instance, if in 1870 you yearned for a cup of beef tea, it would require you to boil up beef scraps and bones; yet by 1910, one could choose from a range of extracts sold in brown bottles with names such as Bovril and Oxo. Some vessels were reused, such as glass bottles and jars, and the stoneware jars we offer here – yet they were often tipped, and before the end of their life. Buried in the ground for over a century, they are now being rediscovered and un-earthed from their Victorian dumps. The simple shapes and stunning muted colours of these pots provide a glimpse into Victorian utilitarianism and into nineteenth century daily life, its needs and aspirations – which now, on the face of it, appear in-sync with our 21st century ideals, aesthetics and thinking. 
Year of manufacture: 1890 - 1920
Origin: England
Material: stoneware
Condition: all are hand-thrown, so each is slightly different - irregular in shape, with blemishes, nicks and faults in their glazing and finish. They were made for everyday use, and that's their beauty. 
Small: Height 6 - 7cm Diameter 5 - 6cm
Medium: Height 10 - 11cm Diameter 7 - 8cm
Large: Height 13 - 14cm Diameter 8 - 9cm
Please make your choice in the box below. The colours vary from those pictured, so if you require a particular colour from the choices we show here, then please indicate in the notes section on check-out.